When you pay for Emagine ticket prices, you can think of it as paying for your ticket to another world. When you go to the movies, after all, you imagine yourself to be in another world, even another universe. You are still obviously still inside the cinema but you can let your imagination run wild!
Here are the ticket prices in Emagine theaters. You can also check in for changes to these prices, such as for private and special screenings.
AGE
TICKET PRICE

Movies

Children (ages 2-10)
$6.50
Adults (ages 11 & up)
$10.00
Seniors (ages 65+)
$7.00
Student Discount
$7.00

3D Movies

Children (ages 2-10)
$9.00
Adults (ages 11 & up)
$12.50
Seniors (ages 65+)
$9.50
Student Discount
$9.50

EMAX

Children (ages 2-10)
$7.50
Adults (ages 11 & up)
$11.00
Seniors (ages 65+)
$8.00
Student Discount
$8.00

DMAX Seating

Children (ages 2-10)
$14.50
Adults (ages 11 & up)
$18.00
Seniors (ages 65+)
$15.00
Student Discount
$15.00

To Find Emagine Cinema Near You

Was this page helpful?

We need your help

Have you paid a different price?
Let us know and we'll add it in!
Many people will be grateful for your contribution.
Relative Newcomer to the Block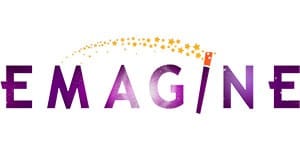 Founded in 1997, Emagine was originally known as Cinema Hollywood. Despite its status as a relative newcomer to the industry, the present-day Emagine Entertainment is known for its innovations in its market. For example, Emagine is the first theater in Michigan to offer all-stadium seating and to convert to digital projection.
Emphasis must be made that Emagine theaters are located in several cities across the State of Michigan. Emagine Entertainment's efforts toward excellence in movie theater facilities, amenities and services have also been recognized via several awards. For example, various publications including Detroit Free Press, Detroit News, and WDIV have cited Emagine as "Best Movie Theaters".
Such recognition is not surprising considering that Emagine movie theaters provide its customers with superior amenities, facilities and services. You can look forward to the following:
Spacious lobby with an area for socialization before and after the movie screening
Wide range of delicious food and refreshing drinks, including alcoholic drinks in selected theaters, at the concession stands and bar
Luxurious seats inside the theater, which can also be reserved in advance
Superior video and audio technologies that provides world-class movie viewing experiences
You will also appreciate the friendly service staff members who answers questions in a courteous manner, among other relevant services.
Range of Cinemas
Of course, each of the Emagine theaters have its specific design, services, and range of programming. Just to give a general idea of the movie theaters, here's a basic guide. You can obviously watch a movie in each of these locations for a hands-on experience.
This is Emagine Entertainment's first movie theater located in Birch Run, Michigan. Aside from the stadium-style seating arrangement, Cinema Hollywood is also known for its DBOX Motion Seating. Adults (i.e., 21 years and above) can purchase alcoholic beverages here.
This is Cinema Hollywood's sister theater located in Novi, Michigan. It is notable for two things, namely, the world's first all-digital movie theater and the first to feature two DBOX Motion Feedback auditoriums. You will find that the total Emagine movie experience can be enjoyed here.
This is located in Canton, Michigan. You will appreciate the 18-screen Megaplex set up coupled with DBOX motion feedback auditoriums. Your experience will also be enhanced, thanks to luxurious seats.
Other locations are Emagine Woodhaven; Emagine Rochester Hills 10; and Emagine Royal Oak 10, which also boasts of a full-service bar and bowling alley. You can also go to Clio Square Cinema, the smallest in the chain, and Emagine Macomb with its 48-foot screens and seven feet of legroom.
And one of the best things about being an Emagine patron: You can avail of great rewards in its Emagine Rewards program.
For more information about Emagine, visit their official website.