One look at Marcus Theatres ticket prices and you will appreciate their relative affordability in comparison with the competitors' prices. Keep in mind that the theater chain owns and manages dozens of screens in several locations across Illinois, Wisconsin, Nebraska, Minnesota, Ohio, and North Dakota.
With several innovative programs in place, Marcus Theaters are among the leading movie chains in their markets. These programs include Indie Focus, Theatre Entertainment Network, and Tuesday movies with ultra-affordable tickets. You will then be more willing to pay for the following ticket prices:
AGE
TICKET PRICE

Movies

Children (ages 3-11)
$8.00
Adults (ages 12& up)
$11.25
Seniors (ages 60+)
$9.00
Military Discount
$7.50

3D Movies

Children (ages 3-11)
$10.00
Adults (ages 11 & up)
$14.25
Seniors (ages 60+)
$11.00
Military Discount
$10.50

UltraScreen 3D

Children (ages 2-12)
$12.50
Adults (ages 13 & up)
$15.75
Military Discount
$12.00
Seniors (ages 65+)
$13.50

To Find Marcus Theater Near You

Was this page helpful?

We need your help

Have you paid a different price?
Let us know and we'll add it in!
Many people will be grateful for your contribution.
Dinner, Desserts and a Show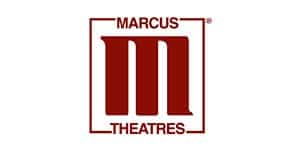 For the price of a ticket, you will not just be able to enjoy the movie but you will also be able to enjoy the amenities insider the theater. Think of it as a great movie experience with dinner and desserts as the cherry on top. You have a wide range of choices in both movies as well as food and drinks so much so that there's something for everyone in Marcus Theatres.
You can purchase virtually everything from standard concession treats to gourmet menu treats, which are also available for pick-up. You may also consume your food and drinks in the lobby, lounge, or theater depending on your preference of the day. Your choices in dining venues include:
Zaffiro's, which are known for their handmade thin-crust pizza, tasty appetizers, and filling sandwiches.
Take Five Lounge, which provides its customers with a casual and relaxing dining atmosphere with a wide range of menu items.
Reel Sizzle, which is currently available at Brookfield's Majestic Cinema and which has a 1950's-inspired menu.
Cinedine and Big Screen Bistro, which offer moviegoers a full-service, in-theatre dining experience. Choices include salads, sandwiches, entrees, appetizers, desserts and drinks, which you can have delivered to your seat.
Stone Creek Coffee Roasters, which has a variety of seasonal blends and year-round roasts.
Chocolate Shoppe Ice Cream, which offers kids and adults alike with several flavors of ice cream and shakes.
Of course, the technology used for the film screening matters the most in your overall experience. You will find that the movies have vivid videos and crisp audio, which makes movie watching such an enjoyable activity. You will also love the comfortable seats with their wide dimensions, spacious legroom, and ample space for food and drinks.
You also have a wide choice of alternative programming blocks to widen your film repertoire. These include Arts & Culture, Film Series, and Sensory Specific as well as sports and concerts.
Enjoy Movies, Earn Rewards
But that's not all there is to it either. You can earn generous rewards from buying tickets. You can earn one point for every dollar that you spend and for every 100 points, you can receive $5 worth of rewards. Among the rewards include:
Members-only film screenings
Free popcorn on Tuesdays
Free refills on fountain drinks
Free mobile or online ticketing
Indeed, the more you watch movies at Marcus Theatres, the more you can earn points and rewards. Your life will be enriched, too, because of your wide repertoire of movies under your belt.
For more information about Marcus Theatres, visit their official website.